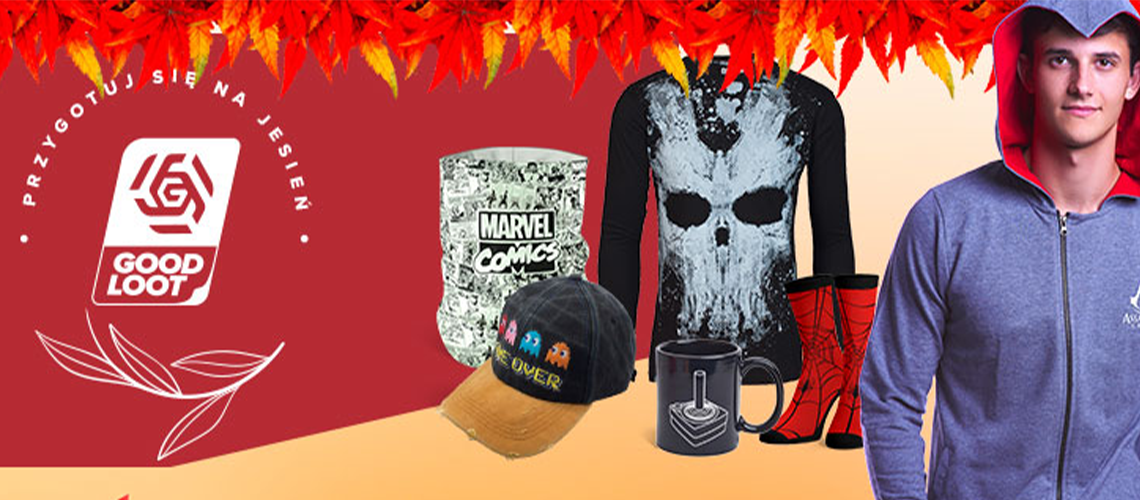 Dobra wiadomość dla tych, którzy nie do końca lubią chłodne jesienne wieczory.

Od dziś do 31 października m.in. skarpety, bluzy i kubki można upolować nawet o -75% taniej!


Nowości obejmują:
Assassin's Creed Beanie
Assassin's Creed Flat Cap
Assassin's Creed Hoodie with Scarf
Assassin's Creed Legacy Hoodie
Assassin's Creed Legacy Snapback
Assassin's Creed Legacy Socks
Assassins Creed Mug
Assassin's Creed Origins Front Logo Snapback
Assassin's Creed Origins Logo Beanie
Atari Heat Reveal Mug
Atari Logo Snapback
Atari Red Logo Beanie
Black Ops 4 Heat Change Mug
Borderlands 3 Tina Metal Badge Mug
Borderlands 3 Troy Snapback
Borderlands 3 Troy Socks
Captain America Shield Mug
Doom 25 Socks
Fallout 76 Beanie
Fallout 76 Cap
Fallout Heat Reveal Mug
Fallout Patrol Cap
Gameboy Travel Mug
GoW4 - Black Omen Cap
GoW4 - Black Socks
GoW4 - Grey Socks
GoW4 - Red Omen Hoodie in Black
GoW4 - Red Socks
Mafia III Logo Flat Cap
Mafia III Military Flat Cap
Marvel AVAS Capt. Amer. Snapback
Marvel Avengers Captain America Socks Duo Pack
Marvel Avengers Heat Reveal Mug
Marvel Avengers Heroes Socks Duo Pack
Marvel Capt. America Combat Cap
Marvel Captain America - Beanie with logo
Marvel Comics Neck Gaiter
Marvel Comics Snapback
Marvel CW Cross Bones Long Sleeve
Marvel Deadpool Baseball Hat
Marvel Doubleside Beanie Cap
Marvel GotG Heroes Socks
Marvel Infinity War Avengers Ankle Socks
Marvel Infinity War Avengers Socks
Marvel Infinity War double side Beanie
Marvel Infinity War Sinister Socks
Marvel MC Hulk Socks
Marvel Punisher Ankle Socks
Marvel Punisher Doubleside Beanie
Marvel Punisher Neck Gaiter
Marvel Spiderman Beanie
Marvel Spiderman Socks
Pac Man Shaped Mug
Pac-Man Blinky Ghost Hat
Pac-Man Glass
Pac-Man Heat Reveal Mug
Pac-Man Vintage Baseball Cap
Playstation - Controller Snapback
PlayStation 2- Rubber Controller Logo Snapback
Spiderman Travel Mug
Star Wars "Boba Fett" Sweatshirt
Star Wars "Camo" Hoodie
Star Wars "Evil Forces" Fan Socks Set
Star Wars "Imperial and Rebel Leaders " Fan Socks Set
Star Wars "Imperium and Rebels Logos" Fan Socks Set
Star Wars "Rogue One" Fan Socks Set
Star Wars "Yoda" Sweatshirt
Star Wars 40th ESB Anniversary Baseball Cap
Star Wars Beanie With Rebel Logo
Star Wars Black Scarf With Red Rebel Alliance Logo
Star Wars Black Scarf With White Galactic Empire Logo
Star Wars Chinese Ink T-shirt
Star Wars Constellation Heat Change Mug
Star Wars Enfys Ankle Socks
Star Wars Enfys Red Socks
Star Wars Front Logo Snapback
Star Wars Imperium Logo Beanie
Star Wars Japan Style Snapback
Star Wars TIE Fighter Cap
Star Wars Trooper Mask Long Sleeve T-shirt
Star Wars Vader Neck Gaiter
Star Wars Winter Hat
WH40K Astra Militarum Heat Reveal Mug
WH40K Combat Cap v. 2
WH40K Heat Reveal Mug
WH40K Inquisition Heat Reveal Mug
WH40K Military Beanie (One size fit all, regulated)
WH40K Neck Gaiter
WH40K Socks
WH40K Winter Hat
Wonder Woman Travel Mug
WoT Black Hoodie
WoT Camo Socks
WoT Heat Reveal Mug
WoT Hoodie
WoT Mug
WoT Neck Gaiter
WoT Patrol Cap
WoT Winter Hat
Oferta dostępna na empik.com, grymel.pl, konsoleigry.pl, merlin.pl, muve.pl.